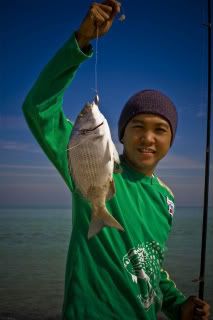 BACOCO hunters
this is one of the few activities ive been making myself busy with out of workplace. fishing… as to those who doesnt know what bacoco is. it is what they named after a fish and like bangus in the philippines, this is the most common fish you'll get your hand with near the coast. so here goes the third entry for the chronicles of a photographer..
during weekends (friday mostly) we go fishing and according to our weather forecast by adeen high tide would be 11am so we grab up our equipments and head on to the beach. forget the rod, forget the bait, forget everything but not the cam, my love -> canon eos450d. hehehe. of course my colleauges are bringing the things but not me. unfair? nah i dont think so. you'll see.
upon arriving i saw nothing except waters, horizon, and the skies with a little cloud formation but not quite as i expected. it was windy and the water was so inviting. well i didnt bring extra shirts so i bothered not going in for a dip so what i did pulled out my love, my cam and started shooting. now you might be thinking what did i shoot? hehehe. think again. of course my colleagues. ease the pain of thinking and started shooting some pose of my friends. and this is the reason why unfair is fortuitous. hehehe.
 here are some of the pics i took.. everybody claims they caught the fish so all of us has a picture with our guest, sinigang na isda. hehe
bacoco hunters are: gmac, adeen, cirilo, jovan, andy, chito, jess, dong, tom..
17 comments on "BACOCO hunters"
naks..nipost na!ahahahha..enjoy talga ang fishing and tulya thing na yan

wow naman….. magandang bonding time yan….

ang kyut mo ha este yung fish pala haha! 😛

marami din akong kakilalang nagpi-fishing, ganda ito way of relaxation.

nice pic. 🙂

Ang sarap ihawin at gawing pulutan nung mga isda.

PD! tsarap naman nyan..ihaw ihaw time!!!

Enjoy fishing…

mj, sinu masarap? hahaha. joke lang po.

cool, parang magandang hobby yan ha. 🙂

wow! infairness kuya gmac..gwapones ka!hehehe

naku…laki naman nung mga fish! .. sarap naman yan.. halata ko puro kayo naka smile.. ang saya saya namn nyan!

Godbless sa inyo kuya 🙂

wow big catch kuya ha… pahingi naman! 😉

so masarap din ba sya kainin? parang tilapya 🙂

@rnie – yups enjoy talgaa ang tulyahan! hehehe

@ifm – maganda bonding time lalo na dito sa saudi na walang mapaglibangan. hehehe

@aling baby – oo nga sa cuteness ng isda napakiss ako eh. hehehe

@kirk – pre nasa tyan na namin.hehehe

@joycee – i think dito lang sya sa lugar namin gawin magandang hobby sya. hehe

@mayyang – pictures are deceiving. hahaha.

@yhen – ubos na eh. hehe.

@vhincent/jen – musta na? buti at nakapasok ulit ako sa link nyo. ngaun lang ulit. hehe. may problem ata dito sa amin.

wow good times for fishin huh… I used to read all your post– I like most of it..– keep it up…..and Oh by the way. tnx for droppin' a comments on my page.. I'll see you around..:)

uy, fishing! alam mo dito dapat meron kang tinapos na seminar bago ka mag fishing, kundi huli ka ng pulis

kamusta naman ang lasa ni bacoco? lasang bangus din?!

@mami kengks- ano yun may nagbabantay na pulis sa mga fishing sites?! nyaiks toxic nila ha!

hi helena, i think coast guard yun. meron nga paikot ikot at bawal gumamit ng lambat in some areas hinuhuli nila. thanks for droppin by.

the great bacoco hehehe…parang ang sarap ni bacoco!…

hahahaha…ei ask mo sino sa mga bacoco?…eh di syempre yung hawak mo:-)