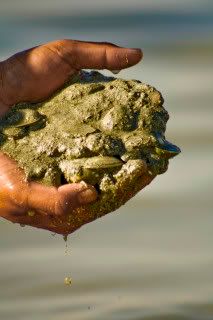 Qatif dip
another success as i brought my 450d (i think i should give a name to my camera) in our halaan hunting in qatif. it was 30 minutes drive from our place excluding traffic. we rode off to rakah around 845am yesterday so we can go fishing and catch some halaan for lunchtime.
good thing the weather is great. though no cloud formation can be seen, i was still hoping i could capture some shots while fishing. upon arrival i immediately pulled out my 450d and shoot away. seeing this boat i immediately captured some shots. there was few subject to shoot so with no hesitation i did not let the opportunity passed. my colleagues started to complain it is time to go because they already had a bunchful of halaan and crabs in our bin.
well so much for fishing.. i dig some pictures during that trip and i hope u did too.
here are some pics i took..
you can also view the rest of the images during our trip at http://flickr.com/photos/gmacomics..
11 comments on "Qatif dip"
another success nga! i like the splashing of water o ano ba tawag dyan? ang galing!

yup i think thats what they call it, splash. hahahaha. thanks ifm!

huwaw! ang ganda ng mga litrato, buhay na buhay! dati ganyan din kami kapag gusto namin ng halaan, sa baclaran kami nangunguha 😀

hayyo friend! Ganda ng pics… especially yung sa water…

kaya lang medio blurry/pixelized.

btw: posted something in my blog, again, inspired by one of your photos. friendster, alin sa mga pics mo ang fave mo para try ko gawan ng short text?

grabe ang ganda ng pictures! ibang klase ka! they are so warm and vivid! nasa RP ka ba at halaan ang hinahanap mo?

wow.. the best ka talaga paremoy! ang ganda ng mga shots!

grabe galing talaga kuya! bkit kaya pag group pix nagiging firing squad ano? ehhe…

pero the rest of the pix astig! wala akong masabi!

bow ako master!wahehehehe

@kengkay, salamat po. meron pala sa baclaran halaan? teka di ba wala ng dagat dun? hahaha

@bt, friendster! di ko nga alam bakit sa ibang computer ay nagpixelized sya pero dito sa computer ko ok naman sya at maganda ang resolution nya. anyways you can always check my images at flickr. thanks!! mamili pa ako sa mga images para malagyan ng 2 liners. hehe.

@prinsesa, salamat din po teacher musang! hehe. nasa saudi arabia po ako at maraming halaan dito as in. though nung nagpunta kami ako ang dakilang photographer at sila ang mangingisda. hehe

@potsquared, paremoy!! salamt ng marami. sana matuloy tayo kahit mga 2 hours of shoot lang sa pinas.

@yhen, hi there ms inlove.hahaha. joke. alam mo yan din ang tanong ko sa sarili ko bakit ganun ang group shots.. haha. hayaan mo gawin kong ck model images sa susunod. hehehe. thanks for appreciating my shots.

@rnie, master ka jan! novice lang po.

galing galing nang PD ko!
hehehe…Keep it up…cute ung first pic..ung tumulo na tubig na may dalang sand? hehehe..

ang ganda ng second pic…parang eight o clock commercial lang eh..hehehe hindi nga lang orange:D