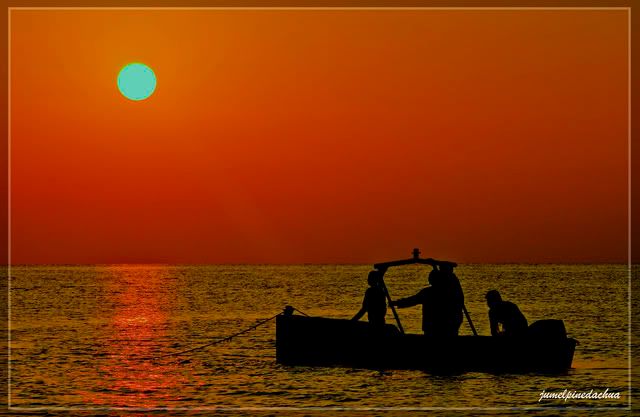 creative photography: november third entry
waking up early in the morning before the sun rises up is a very hard thing to do. of course we want to make out the most in resting rather than going ou first thing in the morning. this is what we do. so we can catch the rising of the sun and see the beauty of the glorious rays as everything under it watch in great awe. my third entry for creative photography month of november i named as "sailing." you can view the rest of the beautiful images of creativephotography in here.
i have been going here for almost two months becuase and this is the first time i saw these boat passed this way with people on it. it was a great timing for us to shoot them while the sun veils on the background. i made the image silhouette mainly because i love silhouette.teehee..
winter is fast approaching here and good thing my throat is becoming clear now and flu is waving off goodbye. as they say vitamin C really is the best medicine plus doctor's medication of course.
happy weekend guys!
11 comments on "creative photography: november third entry"
An absolutely beautiful shot.

i have LR already but i don't know how to use it yet…. kukulitin na naman kita. pwede ba?

::::::::::::::::::::::::::::::::::

ifm, add mo ko kasi sa ym para dun kita turuan. hehehe. thanks. gmacomics handle ko pa rin.

This is a gorgeous shot of the sunrise. I like silhouettes, too. Very nicely done photo.

Good luck in Roger's contest!

The silhouettes are well captured in this gorgeous photos 🙂
Great one!

What a awesome capture! A very impressive shot! Tell me do you go fishing there to?

:::::::::::::::::::::::;

hi roger. yes we do fishing every fridays. but this one we had it thursday morning.unfortunately, we dont catch a lot of fishes around here. thats why i just grab my cam and shoot. hehe

Very nice shot…Excellent capture…good luck

This is simplicity in motion. The rising sun set upon the calm sea. Even the fishermen look tranquil as they begin their day of toil. A stunning shot!

This is such a peaceful picture, what a great capture!

Good luck in the contest!

what an awesome place to be. Hello, Jhum!^^

i love this pics… and i wish ican go fishing too… hahahah i will consider this as one of a great adventure especially here in the pihilippines… hahahahah… nga pala
for good na poh ba stay nyu here? hehehe…