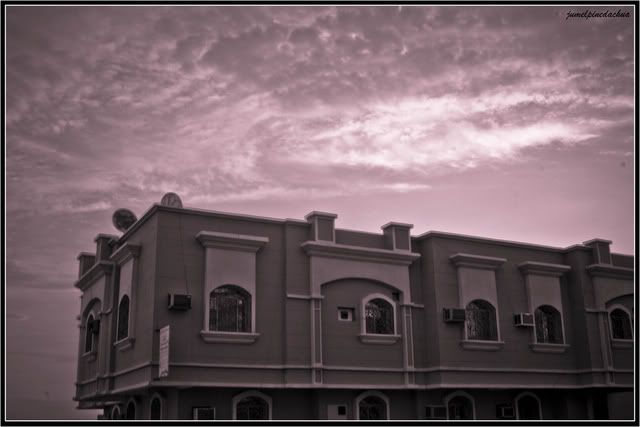 black hole
november.. one ordinary day. this one is one freaking amazing cloud formation i saw awhile back when i left my accomodation in dammam. quite interesting too and truly winter is on its way here. need to prepare a lot of things including extra bed sheets and more comforter at night. it seems like flu likes to rest in my body,still sick and the doctor gave me meds starting yesterday till 3months and how i wish i can follow it. anyways enought talk, here is the picture i was talking about.
11 comments on "black hole"
Winter sounds good when one is in a 365days summer country! 😛

Wow, very cool capture, nice.

..ano ngang cloud formation yan? cumulus? cirrus? nimbus (sorry sa science teacher ko!nyahaha!!)
..nice! sabi nga ni potpot..talentado ka daw talaga e.

Did you know?

• The Great Wall of China, known to be one of the eight wonders of the world, is made of rice. Its foundation is composed of plain sticky rice and compressed dirt.

However, this has been reconstructed and repaired for a number of times, but parts of it with the rice and compressed dirt can still be seen today.

NOVEMEBER IS NATIONAL RICE AWARENESS MONTH!

more of this trivia at http://www.yhen1027.wordpress.com

you have to rest… you're body is signaling for you to stop and rest…

as usual, ganda na naman ng picture…

hmmm… pagaling ka kuya!.. pahinga ka para marelax relax ang iyong katawan…

hmmm…nice shot kuya.. iba ka tlga!
Do take care of yourself kuya.. Godbless!

Heyyo friend. Get well soon.

You know what's good about your pics? They stir emotions. Like this one. An inanimate object against a backdrop of an overcast sky. It's like gloom descending. Yet… there is also bright section somewhere near the middle. It's just like a ray of hope peeping through.

PS: posted something in my blog. Hiniram ko na naman isa mong pic, ha? 😉

Anong gamit mong cam pre?

::::::::::::::::::::::::::::::;;

minsan nikond80 pero ung lage kong gamit canon eos450d. gaya ng shot na ito sa canon yan. hehe.

wow! ganda ng mga kuha mo gmac. bravo!

ibang klase talaga kapag manood ng cloud formations ano?