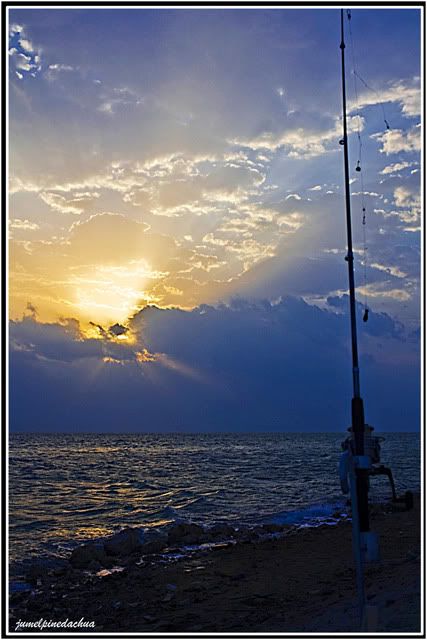 PHOTOHUNT (blue) / CREATIVE PHOTOGRAPHY (#15) / SKYWATCH FRIDAY (#16)
By: gmacomics
Tags: blue, creativephotography, dammam, fishing, gmacomics, jumelpinedachua, photohunt, saudi arabia, skywatch, sunrise

Category: CONTEST, living the dust, photography
as they say, the early bird catches the early worm, but not in this picture. twisting the saying makes it early worm catches the early fish. lolz. my entry for creative photography here, skywatch friday in here and photohunt themed blue (for me will be blue skies)  which can be viewed here…. a shot from dammam coast while me and my friends are fishing. too bad no fish were caught….
and another bluer than blue with the flamigos…. happy creative photography and photo hunting guys!!!
34 comments on "PHOTOHUNT (blue) / CREATIVE PHOTOGRAPHY (#15) / SKYWATCH FRIDAY (#16)"
Gorgeous photos! The top one took my breath away. What an amazing capture. tfs! 🙂

That second shot is BREATHTAKING BEAUTIFUL!~ WOW!

WOW! Both shots are amazing! You always have the amazing shots! Lovely!

nice shots of da blue 🙂
like da first pic very much

Wonderful! The flamingos are my favorite – I love the reflections in the water 🙂

Wow !! amazing photos,wonderful for theme BLUE.
Have a nice week end.

both wonderful picks but I like the sunrise the best

wow! amazing pictures!

here's my BLUE sky. Enjoy your weekend!

That's just gorgeous! Of course, I'm particularly partial to the second one! LOL!

Thanks for stopping by Flamingo Fotos!

The sun rays peering out from those clouds are awesome and brings on hope to the picture 😉

thanks guys! happy photo hunting!!!

idol ka talaga sa picture taking.. next time na kelangan ko ng photographer.. ikaw kukunin ko… para makarelate ka kung anong sinasabi ko.. eto yun oh http://anakngpiso.wordpress.com/2008/11/02/photo-gulat/

cheers;p-glesy the great.. pinakita ko sa utol kong artist.. maganda daw… ahehehe… ;p

::::::::::::::::::::::

thanks glesy the great!

Those are spectacular shots. I love how the sun's rays are bursting in the beautiful blue sky. Lovely flamingos.

I read your post below. Hope you're feeling much better now. Take care.

::::::::::::::::::::::::;;

thanks rachel! hope to see you around.

nice photos … i love the second one 🙂

here's mine

wow, very nice photos, like the yellow stroke

Both are wonderful shots! I love the photo if the flamingos!

Thanks so much for stopping by!

Beautifully done. I sure wish I'd been there today instead of cleaning the house all day long! *LOL*

beautiful photos especially the blue flamingos. 🙂

thanks for the visit and if it's ok to exchange links i would love to. drop me a line if it's ok. k?

all your friends comment are true!

wow…wala na talaga ako masabi kuya.. amazing!

Godbless! keep up the good work…

:::::::::::::::::::::::::::::;

thanks mayyang!! im gad you liked it!

Very nice contribution and fitting for both Skywatch and Photohunt!
Cheers, Klaus

:::::::::::::::::::::

thanks klaus!

Thanks for stopping by my blog! Your photos are all fantastic.

Two fabulous pictures! Perfect for both categories. But I have to say I love the magnificence of the one with the light and clouds.

::::::::::::::::::::::::::::::::::::::

thanks thanks. *blushing* hihihihi

Wow! That first picture is totally amazing, I just love the way the sun is coming through the clouds! The blue flamingos are very nice, too.

I'll be putting up a post for Creative Photography later on but I don't think there is any comparison at all except mine has to do with fishing, too.

Good luck!

Ohhhhhhhhhhhhh….pang wallpaper ito! Really, these are gorgeous shots. Picture-an mo naman ako weheheh!

:::::::::::::::::;

hahahaha. sige ba. pagdating ko jan sa pinas picturan kita agad. posing.

Absolutely stunning. Thank you for stopping by and good luck.

wowowowowow!!!!! ang ganda sobrrrrraaaaaaa!!!! inggit mode ako… hahahahaha! i'm getting there, i am definitely getting there. naiinspire ako when i see photos like these… parang there's hope at the end of the tunnel for me.. hehehe!

hahhahaha. kaya mo yan ifoundme. anung sinabi ng cam ko sa u. hehe.

Both shots are incredible, but I really like that first one. It evokes so many emotions….. Wonderful images!

Both of those photos are fantastic. The sun coming through the clouds is gorgeous. The flamingoes are cool too.

Good luck in Roger's contest.

Awesome photos both! Those rock my friend!!

Although the sunrise burst probably capture your attention so well that you forgot to place the night crawler you bought as bait to the hook…With the beautiful sky and sea out here, who cares about fish anyway??

Great shots, especially love the flamingos.