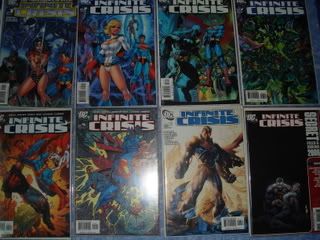 My Collections
i have been a collector since i was in high school. i was fond of reading comics from top companies producing such items like image, dc comics, and marvel but never have i had an interest on making them 3 dimensional action figures and sculpts.
before i was a fan of spawn from image comics. i had the number one issue of todd mcfarlane, the creator, until the 16th issue if i remember well. i even thought of keeping them but never got the chance because reaching collegiate level was hard on me.
i went on an engineering course at MIT in manila and have deprived myself from collecting that time.
probably one of the reasons also is because i need to explore a lot of things beside collecting because that was the only chance i got to experience and develop some extra skills and join co-curricular activities in and out of the institute.
so i totally stopped collecting until one of the cousin of my "now a friend" has opened my world once again in this hobby. i was working back then at a broadcasting company as an engineer when i began to plunge myself again on buying comics. my cravings for reading a lot of issues as i described was so intense that one day i saw all of them compiled inside two large carton boxes so realized i need to stop. but it didn't, it worsen.
the addiction came to a more higher level of collecting and this time making it 3 dimensional and not just pages from a paper rather a plastic, and sometimes vinyl carved to form a 3 dimensional sculpt of the once im reading characters becoming the so-called action figures.
i started collecting figures way back january 2006 beginning with the marvel line. I first bought one figure for a test and this was marvel's xmen villain juggernaut. I was amazed at the articulation and the sculpt of the figure so this began my craze for plastics.
My goal was to complete the x-men characters from their heroes to villains but then got tired of following the line and sold them at a forum where I was invited where collecting toys are always the conversation.
Through this forum I met friends and some just for business and so by mere observation found myself going into another collection. I have sold most of my mint on card condition figures to other collectors and began the high end collecting, statues. Though I still have some figures I keep for myself I started buying the busts.
Busts are half sized statues portraying a certain character with only half their body inclusive or exclusive of arms. These are made by polystone materials and some casts from vinyls sculpts by artists from different parts of the world. Let me take for example my personal favorite character GAMBIT from the Xmen roster.
Gambit was the former assassin and thief who has the power to generate kinetic energy from his body and make things he touch explode like a bomb. So much for his powers, I have bought gambit through a friend who has been collecting busts and statues for years and since he is quitting the line, gave me a fair price for it.
The line was BOWEN DESIGN sculpted by Randy Bowen himself equipped with a metal rod which the character in its persona uses when he goes to combat. It is made of polystone fiber material with a base to let the whole sculpt stand to itself. The sculpt was amazing especially the face which imho have given justice to the character. Application of the paint was also amazing considering it went through the baking process of the company.
2 years have passed and I have collected only 20 pieces of busts. Of course some have come and some have gone due to some personal reasons. You might have asked of that 2 years why only 20?
It is because I moved to a higher level of collecting last year and this time I can still feel the pain in my wallet when I talk about it but so much that I think its all worth it and I never complained. I moved my collecting to full sized statues which I believe is self explanatory. The cost of the busts per head range from 3k-5k php last 2007 and that would make the full size double its price and sometimes even higher.
Of course I never stop to complete the xmen busts but I lay myself low on them. My first full size statue was moon knight and I never saw it because I made a trade with a friend based on Ireland. So the first statue I've seen in my cabinet was thor and I loved it first time I laid eyes on the piece. Second would be rogue then gambit. Last month I received 2 wolverines, bought iceman, and waiting for the arrival of silver surfer and odin. As much as I wanted to make a review on each piece unfortunately I can't for one reason that I am based here in the middle east and all my stuff are in the phil. So far I have seen gambit, rogue, thor and fantastic four at my cabinet alongside with the rest of my xmen figures and die cast cars.
The only figures I have here with me in KSA are the alex ross justice league dc characters. I never thought my collections will multiply at a fast pace considerably of the basis of my stay here in the middle east.
Now, I am waiting for a certain masterpiece custom made by Filipino local talent not only to support them but because their works are so much amazing than some international pieces. Truly something I can be proud of having in my collection. Regardless of the price, I bid one for myself and hopefully will be able to bring it here in Saudi with me. With the levels of collecting I have been through I found that most collectors are not just kids but professionals as well. Wrong misconception for those not in the world of collecting. Another thing is the misuse of the word nerd to define collectors. Some collectors probably qualify to the word nerd but as to most of those ive known, they consider themselves as hobbyist and the collecting as pastime.
Take note of the advantages of those into collecting toys or statues:
1.       No drugs involved
2.      Figures, statues, etc has appreciating value in time
3.      Bonding time with parent to child
4.      Considered as a vice rather than those vices which can wreck families
5.      Can be made as an investment for low profile collectors
6.      Socializing skills are exercised as well as meeting new friends
7.      Personal satisfaction on the items
8.      Interior designing purposes
There are more advantages as to what ive list down and the only disadvantage I can think of is the money you'll be spending with these. For what use of the money if all of these advantages you can take, right? Plus the thing that such items can be resold in case you need some. So money back guarantee is a sure ball in these kind of collecting.
For those who wants to start in these kind of hobby, my advise would be choose and decide wisely which line to go for before plunging yourself totally because some newbies tried to satisfy themselves by considering all the lines and found themselves trapped whining at how much they spent and in the end sold their items way below the price they've paid for.
As for me im stuck with statues and a little bit of figures and die cast and stopped comics because if ill fall to buying them all at the same time I think it's the end for me. Hahahaha. For me collecting is fun and I hope it does to you too.
see, i even completed almost all the sets of happy and kiddie meal when i was in the philippines. grabe noh. hope u enjoyed a little tour on my collections. yung mga bagong dating ala pang picture. il just post another topic for them.
22 comments on "My Collections"
Definitely a cool collection.
I hope to have as much as you some day.
Do you collect anime figures as well?

naks bagong bahay kala ko naligaw ako hehe 🙂 san kaba jan sa pic sa itaas?

nice post pre, i remember na ikaw ang nanghikayat sa aking mangolekta, pero tinigil ko muna kasi may much higher purpose ang pagiipon ko ngayon… pero balang araw ibabalik ko rin yan… dami mo na palang bust, 20 na… pagnagkita tayo sa pinas, picture picture! ehehehehehe ingats jan…

wow, bagong interface ah. hehe!!!

nwei, mahal po mga collections na yan ah.. hhe… ginto?

hahaha. oo nga kasi ung mga pictures mas umaangat pag black or gray ung bg. hehehe.

ako po ung nasa itaas ng letter D ng DUST.

yhen, mahal nga sya. daang libo na total na gastos ko.

hi there jean, thanks but the only anime collection i have is the soc gx31 voltes v.

ako din pre titigil na din me actually lay low muna at aalis na ako sa pgiging bachelor. hahahahaha

grabe, ang daming space na nakukuha ng ganyang collections! ang tiyaga mo at yep, kapag di ka na bachelor, medyo mahirap na yan i maintain. kaya ako libro lang oks na. pero si kengkoy yung collection nya ng kanyang mga trophies nung nananalo pa sya dati sa car racing; pero yung iba ginawa na ring laruan ng mga little kengkays e.

yups at least pagdating ng time appreciated na value nya wag laruin ng mga bata. hehehehe. wow si kengkoy nag car racing! sosi! hehehe

Wow!!! What a sight to behold:) The features of all the figures are well defined, ganda:) This entry reminds me of the gigantic Superman sculpture in the front yard of of Filbar's owner, Filemon Barbasa III. I think you're going to be just like him na hanggang sa pagtanda, ang addiction sa action figures matindi:)

yup i know filemon and my friend used to hang out at new york cubao. dun ung pinakamain branch ng filbars. too bad only few filbars branch has comics na lang. also i know a lot of collectors has these lifesize statues in their homes. probably ill try to make an entry for them next time. hehehe.

wow, nice collection.

when i was working at jollibee and we had the justice league action figures for our kiddie meals, I was able to meet some collectors who made my life difficult by examining every toy until they are able to find a satisfactory one for themselves. It was funny, in a way—some big grown men rummaging through boxes of superman with me.

hahahaha. tama ka kat! marami akong kakilala na ganyang kolektor. sobrang metikuloso pagdating sa figure. gusto nila ung tama ung shape nung mukha at walang paint chip. did u know some colectors are selling happy and kiddie meal at 50php a piece?

Hi! I just came along your blog.. grabeeeeeeeeee ang tiyaga mo nman mangolekta pero oks yan ahh nice collection.. Thanks nga pala sa comments..and I add you in my blogroll list..
I'll see you aRound..:)

Oo nga, one would find mostly magazines at Filbar's unlike before the comics house sya.

yups. mukhang pinalawak nya ung sales market nya by introducing mags. plus factor na din yun kasi marami nang competition on comics.

may tanong ako pareng jhums, meron pa bang C.A.T.S – comics and then some collectibles sa pinas? ang dati kong alam eh yung dating greenhills shopping center na nirenovate, pero di ko na alam kung meron pa rin siya…

hmmm, 50 apiece for the jollibee toys…..they cost a lot less than that, so may tubo pa rin…

yups to think na kinain na nila ung kasma ng toy na burger at softdrinks. o san ka pa. hehehehe. kasi marami din kolektors na naghahanap like for example yung disney cars na nakumpleto ko. marami may gusto nun pero keep ko lang sya para may malaro naman ung future kid ko instead of ung mga statues. hehe.

potski wala nang cats. demolished na. umorder ka nalang kay felix of druids keep or kay rio sa sm north comic quest.

10 4!! hahaha. naalala mo mga codes ng radio at ung montalban freq natin? hehehe.

grabe, tindi ng collections mo. bilib ako sa mga me collections, tyaga talaga…at not to mention laki ng space na naoocupy nila. goodluck pa din sa pagcocollect!=)

hi sommer thanks. actually ung iba nakakahon na lang. kaya me nag lay low ngayon kelangan magipon para sa paglagyan nilang lahat at paglagyan ko din ng sarili ko at future family. hehehehe.